There are many rare birds Ibanez produced in the 70s and 80s. Some one of a kind and some were produced in only very limited numbers.
Among the second species, the Ibanez Musician 300 Limited Edition or MC300LE or MC300LTE, produced only in 1979 is one of the most sought after and meanwhile rare as hen's teeth. And now they only appear from time to time on the usual trading platforms. Most of the guitars that survived the last 40+ years are in the hands of collectors.
Based on several trustworthy sources, the production numbers were limited to 150 guitars AND they only were sold in Europe, some say only by the Meinl Company in (Western) Germany.
The MC300 LE/LTE basically was a Musician 300 – but with some crucial differences.
As all Musicians (except the entry model MC100) it was a neck through construction.
The body wings of this special model consisted of a three-piece laminate of walnut and ash. The neck was, as usual, made of three pieces of maple and two narrow strips of walnut, with a rosewood fretboard.
There were two types around of the "regular" MC300 in 1978/79. The first type had the classic Les Paul controls and wiring (2 volume, 2 tone, pickup selector), the second type (AFAIK know also mainly sold in Europe/Germany) had two volume and one master tone control and one "Varitone" control with the so called Chickenhead multi-switch which basically allowed to choose between an array of tones created by various LC-combinations (L = Inductivity, C = Capacitor) like B. B. King had it in his famous Gibson ES-335 "Lucille".
Both model variations had two Tri-Sound switches that allowed to either split the pickup coils or to run them in out-of-phase (early config) or parallel (later config) mode.
The MC 300 LE/LTE was based on the Chickenhead model and – in addition to it – had active electronics. In contrast to the Top-of-the-Line models MC400 and MC500 it didn't have an Equalizer. There was just a boost circuit with one NPN transistor, which allowed to add some additional gain/volume when switching it on which could be useful for better power and presence while soloing.
As many of my Vintage Ibanez Guitars this one has it's one story, too. It goes like this:
When browsing through eBay and some local Free Classified websites back in summer 2011, one guitar suddenly attracted my attention.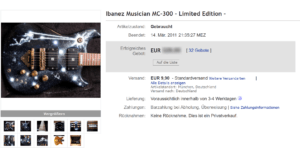 The ad title said "Ibanez Musician MC 300 – Limited Edition" and the guitar was located in Munich, just about 40 Kilometers from my place.
But what I saw really didn't look like the Musicians I knew or already owned, like my 1981 MC500. It was dark blue and had some Airbrush paintings on it. Also the pickups were changed to Supersonic models and the electronics also seemed to have been modified. I hadn't heard of a MC300 Limited Edition before, so I searched the web and Ibanez Collectors World and it turned out, yes, there was such kind of model and it seemed to be pretty rare.
The auction was still going on, the price still was decent and in last second before it ended I placed my bid – high enough to make me win the auction. The next day I went to munich to pick up the guitar personally. The owner, Randy, was a nice guy around my age and had bought the guitar new in 1980 in a Munich store. Guitar modding became popular in these years and besides changing the pickups he asked a friend who was an Air Brush artist, to add some uniqueness and art to the guitar. Also he made the artist spray his name on the headstock.
The result was what I call the "Flying Blue Bra" guitar. The airbrush painting technically was made well and also looked nice. Also after some TLC and new strings etc. the guitar played and sounded great. So for at least the next two weeks I pondered about restoring it to original glory or leave it as it is.
If it would have been a plain vanilla MC300 I would have let it alone and just play it. But as said before, the Limited Edition is rare bird, i decided to restore it. This was a quite long process and included searching for missing parts, completely saning of the blue finish, building the active circuit (Thanks to JayD at ICW for providing me detailed pics of the the Circuit and PCB) and having it coated from new with PolyUrethan like the original MCs were, too.
For posterity here some pics how the guitar looked like when I got it. Unfortunately I didn't make better pics, so the ones from the eBay auction are all I got.
So, I bought me some stain and other chemistry stuff I needed to remove the blue coating (and sadly the the painting, too 🙁 )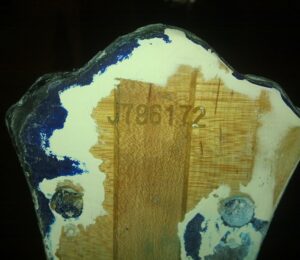 I started with the back of the headstock and when I discovered, that the serial number appeared and wasn't damaged or sanded away, I really felt lucky.
The next ten or more days I spent sanding down the paint, at least one hour every day and couldn't believe that that it was such a hard work. I also had to be as careful as possible to avoid taking away more wood as really necessary.
But some day the job was done I one again I went to Munich. This time to the famous Munich Repair Shop (today called "Munich Guitar Company")  which is run by some really nice guys and also great luthiers who really put passion in their work, no matter if it's building their own guitars or repairing/maintaining other peoples instruments.
They had a look at the body, immediately knew what it was and also shared my addiction to vintage Ibanez guitars. So the made me an offer I couldn't reject and also committed theirselves to do some necessary woodwork too.
After about two long weeks I eventually received the call that finishing the guitar was done and when I arrived at the shop, I really was overwhelmed how good they have been doing their job.
The guitar looked like factory new and I couldn't wait to get home and reassemble it.
While waiting for the guitar to get coated, I was using the pictures I got from JayD (another Thanks!) first to recreate the wiring diagram in Adobe Illustrator, then reverse engineer the schematics of the booster circuit from the photos of the PCB layout and finally building the booster amp on some breadboard PCB. In the image gallery below you see some of the images I got from JayD, the schematics I was drawing from the pics and the circuit I built myself. It looks not very professional, but it's working pretty well and stable without unwanted distortion as can be seen on the oscilloscope.
So, after returning it just took me some hours to have the guitar ready to play again and it really felt great, to tune it and plug it into the amp for the first time 🙂
It sounded and played awsome.
Above some images of the reassembly process.